Visit www.documama.org to read my guest post about my recent visit to  Vietnam.
When you hear Vietnam, do you immediately think "war"?  It was the first word association I had when I heard my parents were planning to visit Vietnam for a vacation. Months later, through a series of lucky events, I ended up going in place of my Dad.
War has, indeed, been a repeating theme in Vietnamese history and without a doubt, the Vietnam War is more present and visible there than in the US, but traveling there, we also got a glimpse into the complexities and treasures of a culture and a people that run deeper than what they call the American War.
We landed in Hanoi at 10:00 pm on February 1, 2012, haggard and fatigued after the long flights, we met up with our tour group and guide, Quang, a 47 year old for whom, by the end of our time together, we would all feel a special affection.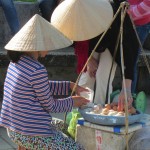 Since this was a tour group and planned for people more my parents age, it turned out that Quang and I were closer in age than the others. As he shared his life stories, I found myself continually figuring out what I was doing while he was swimming in flooded bomb craters during the rainy season or what it would feel like to have my brother leave home for another country, facing pirates and dangers, never to see him again.
What kind of parallel did his life have to mine growing up only 5 years apart? The comparisons were dramatic, I was safe, doing homework, school activities and swimming at beaches, my family was together, and in the post-war years, I happily studied at college and lived a carefree, peaceful, and fun-filled life. Quang grew up with the war.
In moving detail, Quang told us of his decision to try to flee his country, a decision that meant he was leaving his family behind for an unknown future. After extensive planning, while bobbing in the dark in a tiny row boat, he watched as the boat that was supposed to stop for him continued past. Devastated, he retraced his steps stealthily, hiding in shoreline brush, making his way back home without being detected to his relieved parents.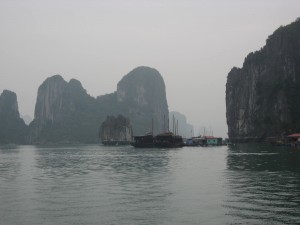 All while I worried about my marketing class project or my statistics exam.
Our group toured many key historical locations associated with the war: the prison known as "Hanoi Hilton," Reunification Palace where Ho Chi Minh's tanks crashed through the front gates, the elaborate, narrow Cu Chi Tunnels, a small section of the tunnel system used by the Viet Cong army.  We saw old American ships being used by current day river police and abandoned US airplane hangars in Da Nang, we swam and walked along China Beach, one site where our troops took R&R. Signs of the American War were everywhere.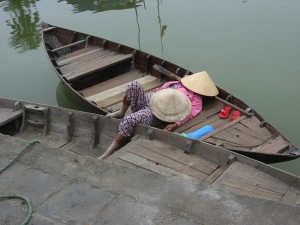 These and many other places were important and critical to see and experience as Americans in Vietnam, but we also learned about an other Vietnam, one independent of, and pre-dating America.  We got acquainted with the Cham people, visited vibrant (and smelly) local markets and floating river markets, we experienced traditional Vietnamese dance and music and played a unique instrument, the Mono Chord, we watched water puppetry, an art form that dates back to the 11th century. From the foods, the silks, the rice paddies and the people, to the cyclo rides, pagodas, temples and the natural beauty of Ha Long Bay, we experienced a Vietnam that had nothing to do with "the War."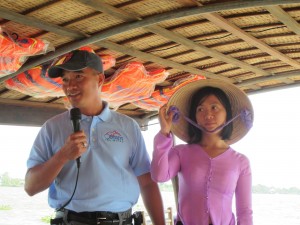 Yes, Vietnam is a war-scarred nation, but it's not defined by the war. The people continue to heal and unite, and those who fought against the communist regime live side by side with former Viet Cong soldiers. Increasingly, a "market economy" (i.e. capitalism) is flourishing and tourism has grown markedly in recent years reaching 6 million visitors in 2011.
Through serendipity or some plan of the universe, I ended up in Vietnam, and because of those 20 days, I now hold this Southeast Asian country in my heart. "War" is no longer my first thought when I hear "Vietnam" and I have a friend in Ho Chi Minh City.